A variety of different tapes are available for masking. They can be
ordered cut in a particular pattern and size, in rolls of different sized
discs, or in continuous rolls that can be cut to size. Different types of
tapes are available for different applications.
There are many other tapes available including masking tape, high-temperature tape, polyethylene tape and others. Each tape has its own features and is suited to a particular task. Be sure to select a tape that has the properties that are needed for the process.
Temperature resistance and the nature of the adhesive backing are
particularly important. The tape must be able to withstand the cure
oven temperature and the adhesive should be easy to remove without
extra effort or secondary operations. Polyester tape with silicone adhesive is commonly used for powder coating.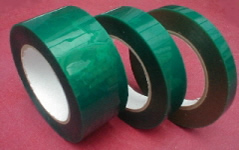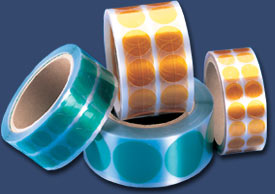 Selection of a particular tape may require some testing. Contact a
supplier of tapes and get samples for trial. Balance the cost with the
proper performance. Remember that the tape must stand up to the
process (water, chemical, thermal, abrasion) it must be economical, it
must be easy to apply and remove, it cannot leave adhesive on the
part surface, and it must be within certain cost limitations.
Tapes are excellent for covering spots on parts that need to be free of
powder coating. They can also cover holes or threads. Tapes are flexible
and usually cost effective.
Back to Powder-Coater Home Page
abrasive blasting adhesion problems caps and plugs
chemical cleaning cure ovens defects fluidized bed
infrared oven masking outgassing powder formulations
pretreatment quality tape powder selection
powder vs. liquid spray booth spray gun substrates